In this section you can learn more about PET, its advantageous properties, as well as the numerous application possibilities on the market.
ELLIE EXPLAINS:
PLASTICS - TOO VALUABLE TO THROW AWAY!
Source: PlasticsEurope AISBL / Youtube 
Length: 3:16 min
General information about PET
Polyethylene terephthalate (PET for short) is a thermoplastic from the polyester family produced by polycondensation. PET has a wide range of applications and is used, among other things, for the production of plastic bottles (PET bottles), films and textile fibers. Worldwide production is 40 million tons per year.
PET is polar, so strong intermolecular forces are present. The molecule also has a linear structure without cross-links. Both are prerequisites for semi-crystalline areas and fibers. These areas also result in high tensile strength and dimensional stability at a temperature above 80 °C.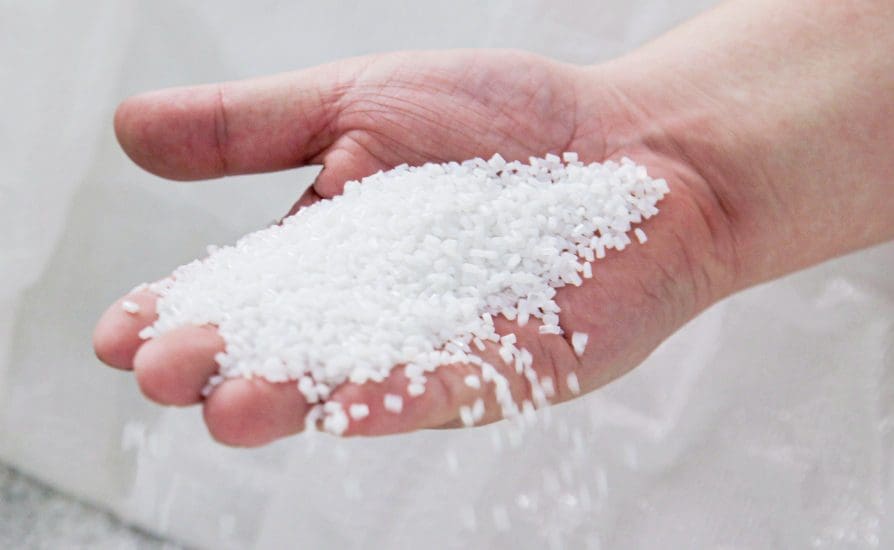 WHERE CAN I FIND PET IN THE MARKET?
PET as a material has already been on the market for many decades. Among other things, it is used to produce fibers for the textile industry and films. Just take a look at the label on your T-shirts! PET has also established itself in the field of packaging technology. Whether for cosmetic or chemical-technical applications, PET packaging has positioned itself on the market for years.
The food industry in particular is becoming increasingly convinced of the advantages offered by PET packaging. The properties of this material allow the highest safety standards in the field of food processing.
HOW IS A PET BOTTLE MADE?
To produce a PET bottle or container, a mould blank, the so-called "Preform", is first produced at 300° C under high pressure. This is similar to a chemistry test tube.

The PET preform is then heated to around 120° C by a machine. At a pressure of 40 bar, the PET preform is blown into the desired shape in the "Stretch blow molding process". The following animation shows this process in simplified form.
COMPARISON OF PACKAGING MATERIALS
THE HIDDEN BENEFITS OF PET PACKAGING
Many emotions, few facts
A constant demonization of plastic packaging recently led the Lithuanian EU Commissioner, Virginijus Sinkevicius, responsible for the environment, oceans and fisheries, to a rather unrealistic proposal for an EU-wide ban on disposable packaging! Possible alternatives to plastic packaging are increasingly appearing on the scene, which on closer inspection are by no means to be regarded as more sustainable.
In order to conduct an objective discussion on the topics of packaging and sustainability, figures, data and facts are indispensable. One of the most important parameters is the value of CO2 emissions. In order to obtain a neutral evaluation of this parameter from one of our 500 ml PET hotfill bottles to a glass bottle of the same size, we have commissioned the company ClimatePartner in Munich to prepare a calculation of the aforementioned emissions. Taking into account raw material extraction, production and delivery to the customer, the determination of the necessary values and their comparison produced a clear result.
THE OUTSTANDING PROPERTIES OF PET ARE:
| | PET | PVC | HDPE | PP | PS | GLASS | ALU. |
| --- | --- | --- | --- | --- | --- | --- | --- |
| | | | | | | | |
| | | | | | | | |
| | | | | | | | |
| | | | | | | | |
| | | | | | | | |
| | | | | | | | |
| | | | | | | | |
| | | | | | | | |
| Flexible Container Design | | | | | | | |
COMPARISON OF PACKAGING MATERIALS
PET offers many advantages over other packaging materials. In particular, PET has very good gas barrier properties compared to other plastics.

Both the escape of CO2 and the penetration of oxygen into the contents are reduced to a minimum with PET. These are just some of the reasons why PET has become established on the market as a packaging material.
Assuming a realistic annual volume of 4.5 million bottles, the disposable glass bottle generates 186.3 tons more CO2 emissions than our PET bottle. This amount corresponds to:
It becomes clear here that, especially due to the enormous weight of more than 7 times that of the PET bottle, the glass bottle causes considerable disadvantages in transport. In order to finally put an end to the sometimes untenable hostility towards PET bottles, the industry and retailers have been calling for the Environment Agency to draw up a neutral life cycle assessment for some time now. The values used today date back to 2010. In particular, due to the steady increase in the number of individual bottles in the reusable system, the life cycle assessment for the reusable system is unlikely to be positive. Perhaps this is the reason why this balance has not been compiled to date!
The great transparency and the shiny surface offers a special charm and lend the PET-packaging a sophisticated image. New labelling solutions with double-sided printed labels give the bottle an outstanding beauty.
The flexible production process allows an almost unlimited variety of designs. In particular, the machine concept and mold concept used by E-proPlast allows universal mold design with minimal mold costs.
Up to 90% weight saving compared to glass! This makes transport, among other things, considerably more economical.
Due to the better mechanical properties, weight savings are also achieved compared to PE or PP bottles. In contrast with extrusion blow moulding, no material is wasted during the PET-production process.
Due to the excellent material properties, PET bottles are almost unbreakable. As a result, no breakage occurs during filling, transport and use.
Even if damaged, there are no splintered parts that can cause injury. PET provides the optimum protection for all consumers.