Apprenticeship at Eproplast
You have finished school and want to get started with an apprenticeship?
Are you technically interested, practically inclined or skilled? Then you've come to the right place. We offer apprenticeships in a wide variety of fields, just read on!
We at Eproplast are the makers of tomorrow!
Our passion is the production of PET bottles. No matter whether standard bottles or individual bottles, they are all manufactured by us on state-of-the-art machines. 
But we are more than just a manufacturing company. We want to give young, up-and-coming talents the opportunity to gain a foothold in the exciting world of the plastics industry and help shape it in the future.
Our EPROPLAST world is characterized by innovation and diversity. We supply everything from start-ups to renowned big names in the beverage, food, chemical and cosmetics sectors. They all find the ideal packaging for their products in our product range. Exciting projects with well-known brands are constantly developing from this - you can be part of it too!
An apprenticeship at EPROPLAST means being part of this exciting process. Here you can expect not only large machines and the latest technologies, but also a team of designers, developers or business people who together create sustainable packaging. 
We want to open up the world of the plastics industry to you, which is not only fascinating but also future-proof.
Become part of our EPRO team! #wemakebottles
Welcome to the world of opportunities at EPROPLAST! Here, it's not just about training, but also about making you feel comfortable and appreciated. Because with us you are part of the big EPRO family, and you should feel that too:
At EPROPLAST, you can expect not only exciting tasks, but also an environment in which you can develop and prepare for your future. It is important to us that you not only work with us, but that you can develop yourself.
We are excited about your interest in an apprenticeship at EPROPLAST! Your application is the first step to becoming part of our team. Here is the most important information on how the application process works:
Inform
Take a look around our website and learn more about the apprenticeships we offer. Find out which area suits you.
Application start
Be on the lookout for the application start date for your desired apprenticeship. We announce the application periods on our website.
Application documents
Compile your application documents: Cover letter, resume and references. Make sure that everything is complete.
Submit application
You can submit your application via our online form or by e-mail. We look forward to receiving your documents!
First sighting
We will take a close look at your application and see if we are a good match.
Invitation to get to know
If you have convinced us, we will invite you to an interview. Here we get to know you and you us better.
The job interview
During the interview, we want to know who you are and why you want to work at EPROPLAST. Do you have any questions? We'll be happy to answer them all and tell you about EPROPLAST.
INTERNSHIP POSSIBLE
As a rule, we offer you an internship with us. This way we can get to know each other better and give you an overview of the training profession.
Commitment
If we are convinced and you fit to us, you will receive a confirmation from us. Congratulations!
Contract documents
We will send you the contract documents, which you must sign and return to us.
Your first day
Welcome to the EPROPLAST team! On your first day, we will show you everything you need to know to get started successfully.
Komm auch Du in unser TEAM ZUKUNFT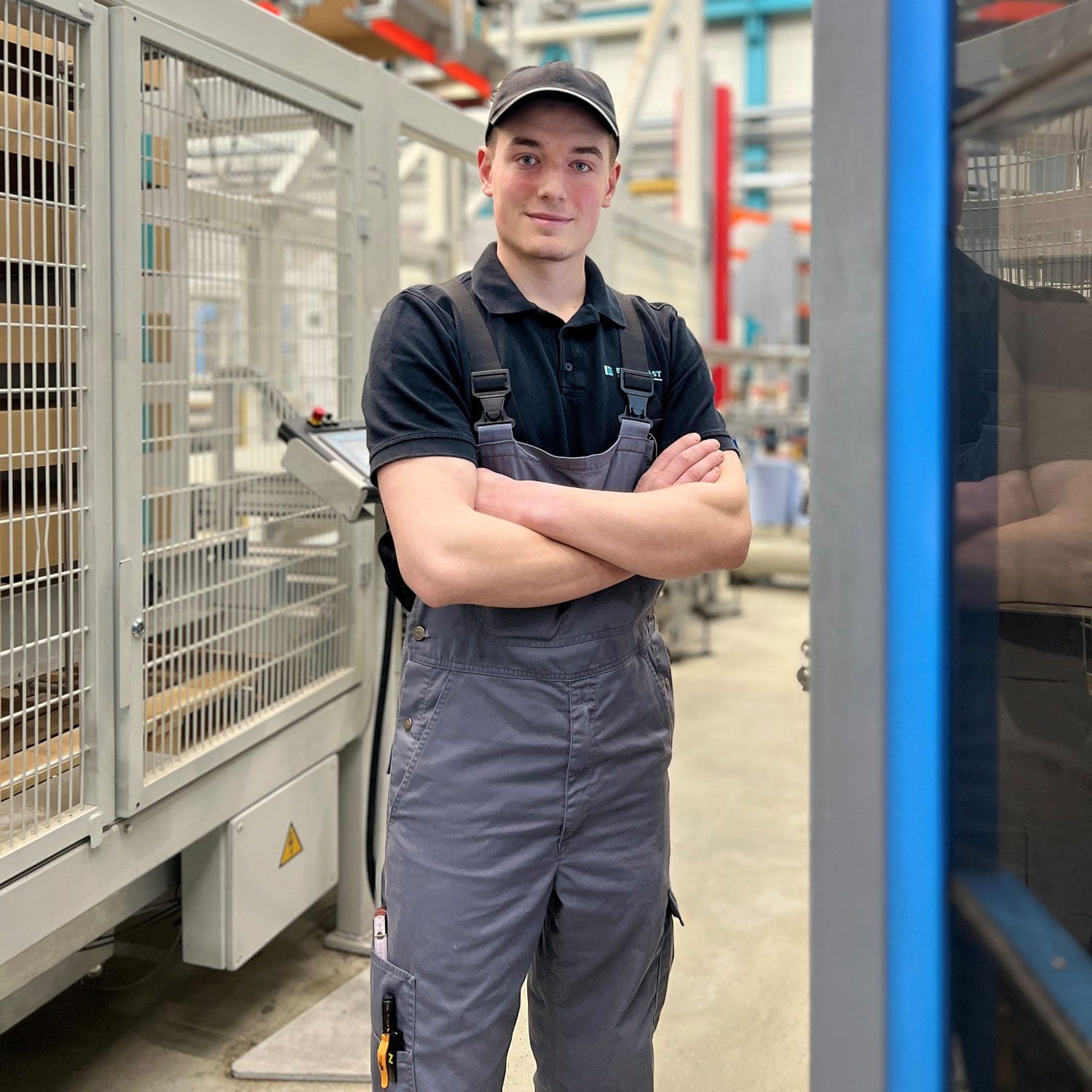 Simeon Fröhlich
Apprentice production technologist
I found the training position on the Internet. First, however, I did an internship at EPROPLAST. After that, it was easy for me to decide on this apprenticeship. What I particularly like about my training is its versatility. I don't just sit in the office, and I don't just stand at a machine. On the contrary, I have a new task every day.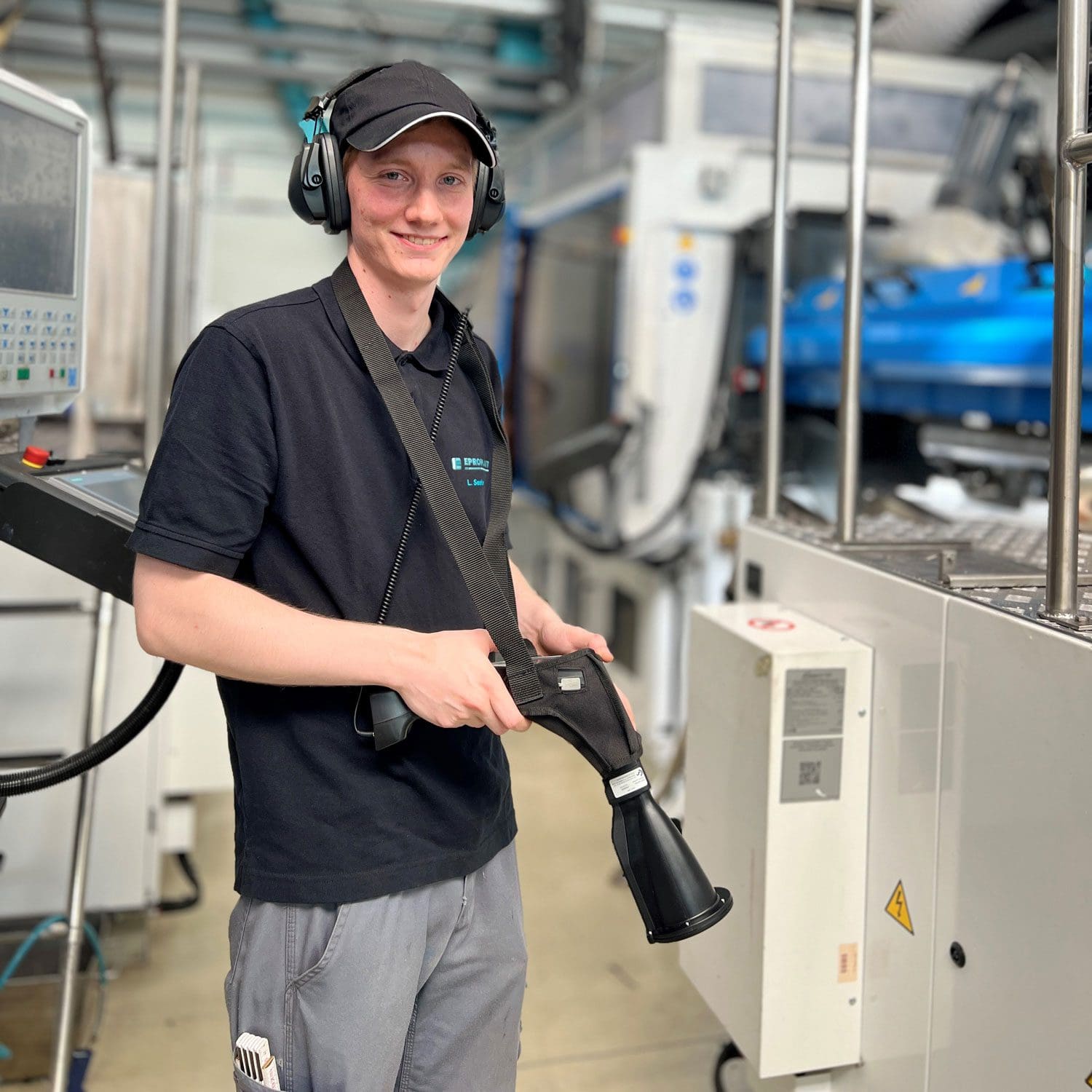 Laurin Seeber
trained production technologist
I completed my training as a production technologist at EPROPLAST just last year. I particularly like the fact that my day-to-day work is very varied. From maintaining the machines, to programming and controlling, to troubleshooting so that everything runs smoothly. An ordinary working day definitely looks different.
Do you have questions about our apprenticeships?
What requirements do I need to meet in order to apply?
You should have a high school diploma to apply for a job with us. You can find out exactly which one in the respective job description. Just read the job that interests you.
How long does the apprenticeship at EPROPLAST last?
An apprenticeship with us usually lasts between two and three years. You will also find the duration of the apprenticeships in the job descriptions.
What prospects do I have after my training at EPROPLAST?
After successfully completing your training, you can expect a permanent position at EPROPLAST. Are you also motivated and would like to make a career with us? We will support you wherever we can.
What benefits and compensation will I receive during my training?
Have a look at our Apprentice – Benefits in. Here we have written down all your advantages. The apprenticeship pay starts with us already from the 1st year of apprenticeship with 1,046 € gross.
Are there opportunities for internships or working student jobs before the apprenticeship?
Of course with pleasure. Just get in touch with us and tell us your times when you would like to work with us.
What is the typical working day like during my training?
Of course, this depends on the profession you are learning. But basically, you are integrated into our daily routine right from the start. This means that you are immediately involved in practice and benefit from experienced colleagues and supervisors. Our training mentors will always help you to find your way around. 
Berufsschulunterricht findet in der Regel blockweise statt. 
Do I get support with vocational school or exam preparations?
As a matter of course. Our company is a member of the training association. This allows us to offer you a wide range of courses and exam preparation that will support you in successfully completing your career.
Will I be offered a job after the training?
Ganz bestimmt bieten wir Dir nach dem erfolgreichen Abschluss Deiner Ausbildung einen Arbeitsplatz an. Wir freuen uns immer, junge Talente zu übernehmen.
Can I participate in further training as a trainee?
Of course, as a member of the training association, we offer you a wide range of courses and exam preparation. So you are always well prepared and can fully concentrate on your training.
Do you have questions about our apprenticeships?
Do you have questions about your training? Here you can find your contact person:
Our current apprenticeship offers
Why is plastic so fascinating?
Plastic offers us the most diverse possibilities in everyday life and it is impossible to imagine so many areas without it. Yet we often don't even notice how beneficial and environmentally friendly plastic packaging is for us.
In the following videos, we will show you how important it is to use optimal packaging and why plastics are quite sustainable. Take a look at the videos!
What do you think? Would you like to shape the future of the packaging industry with us?